AN INVESTIGATIVE REPORT ABOUT KAROL FLORIAN MADERA
WITH SPECIAL ATTENTION TO HIS PEERS, SYCOPHANTS, SUPPORTERS, CRIMINALS, & FELLOW PSYCHOTICS
Spring 2013 Edition
Click to email Industry Canada and the Saanich, BC Police or Call Industry Canada 1-888-780-3333 and Saanich Police 1-250-475-4321

Deeply Disturbed Dimwit's Deposition Dismissed
For two years, Karol Madera attempted to fraudulenty derail a legitimately filed bankruptcy in the western district of Michigan. Using his ever-ready partner in fraud, Whitney Veon Tritch, Madera tried and failed, as he has done, again and again and again. With one well-placed motion, Madera's malignant machinations went horribly awry. See the motion and the granted bankruptcy petition (portions redacted) and be advised, the Department of Justice is now investigating Madera and friend's false submissions to the court. As usual, Madera's half-assed attempt to meddle in court proceedings which were none of his concern, only served to feature his feeblemindedness and fraud.
A Successful Gay Pride Week with Karol Madera
During the last week of March, Karol Madera presided as Queen of the Balls and Head-Master of Gay Pride Week on 14.313 mHz. Karol Madera reported he is a graduate of the largest faggot law school in Canada however, he said the only thing he wouldn't do is suck cock -- which, obviously leaves plenty of room for ~other activities. Although Karol Madera said he doesn't participate, he still recommends learning how to suck and blow and he's very proud of the fact Canada has legalized the cornholing method of intercourse.
Madera, who is very politically astute, often comments on President Obama and maintains a keen interest in the President's sex life. Madera said the American Bar Association are a bunch of cock-suckers while Karol himself is far more selective, having very specific requirements regarding his prospective male partners.
Surprisingly, despite his impressive credentials, including a class grade point average of 71% (approximating a high D), Madera was not admitted to the British Columbia Law Society.
Madera is a recognized expert on man-to-man sexuality, having reportedly attended the Queer Studies Program at UBC Victoria. Madera has also filed numerous documents about homosexuals in the courts, where he bitterly complained about having been excluded from a secret society of the alternate persuasion. Madera can be heard via amateur radio daily, where he is a frequent lecturer on topics related to his Queer Identity on 14.313 mHz. Occasionally, Madera can be surprisingly honest and listening to him speak is always instructive. Incidentally, Madera is also known for his "explosive" and "bombastic" temper, often shooting his mouth off at the most inconvenient moments. Speaking of shootings, you may want to cancel that trip to the Dayton Hamvention this year, as David Tolassi and Karol Madera appear to be planning an 'al Qaida style attack' on that gathering, coming up in May of this year. Specifically, Tolassi told Madera: "Professor, I'll tell you something. I'd like to plan this Dayton thing. We could get rid of a lot of the idiots in Dayton this year. It would be like an al Qaida attack."
Criminal Charges for Karol Madera, VE7KFM
Serious criminal charge(s) against VE7KFM were filed by the Saanich police department this week, according to a victim in the continuing saga of criminal allegations swirling around Karol Florian Madera, of 3040 Tillicum Road, Saanich BC, V9A 2B3. As always, Madera can be reached for comment at his unlicensed business in Saanich, BC at (250) 383-4242.
Criminal Code of Canada } 264.1. Uttering threats
264.1. Uttering threats
264.1 (1) Every one commits an offence who, in any manner, knowingly utters, conveys or causes any person to receive a threat
(a) to cause death or bodily harm to any person;
(b) to burn, destroy or damage real or personal property; or
(c) to kill, poison or injure an animal or bird that is the property of any person.
Punishment
(2) Every one who commits an offence under paragraph (1)(a) is guilty of
(a) an indictable offence and liable to imprisonment for a term not exceeding five years; or
(b) an offence punishable on summary conviction and liable to imprisonment for a term not exceeding eighteen months.
Idem
(3) Every one who commits an offence under paragraph (1)(b) or (c) (a) is guilty of an indictable offence and liable to imprisonment for a term not exceeding two years; or
(b) is guilty of an offence punishable on summary conviction.
R.S., 1985, c. 27 (1st Supp.), s. 38; 1994, c. 44, s. 16.
Over 20 Years of Threats in Evidence!
According to the victim in the case, other charges were also filed against Madera. These alleged criminal threats represent a long history of threats, based on court records dating back to 1989. Over 20 years ago, the Victoria Real Estate Board called the police, successfully ousting Madera from the board, due to Madera's threatening behavior. Madera sued the board and lost, with judgment in favor of defendants and with Madera paying $1,000 to each defendant, plus court costs and expenses. See an excerpt of the real estate board threats case, below, and see our legal page for more information on that and other failed actions, brought by non-lawyer, Karol F. Madera.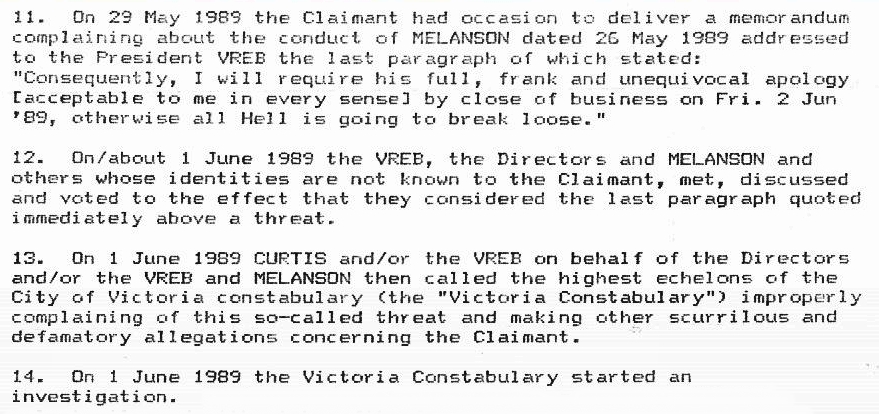 Most of Madera's sycophants have abandoned Madera, with the exception of Michael Adams (Fat Bastard) and Ron Leo Gagnon (Rat Bastard) and Todd Daugherty (Dumb Bastard) who still desperately cling to delusions adopted from their misguided mentor.
Keep Reading!
See the Fat Bastard, Rat Bastard, and Dumb Bastard webpages at the links below...
You'll also find more stories about VE7KFM & COMPANY dating back to 2006 in our Wayback Machine.
Enjoy!
Copyright CENTER FOR MEDIA STUDIES 2006-2013